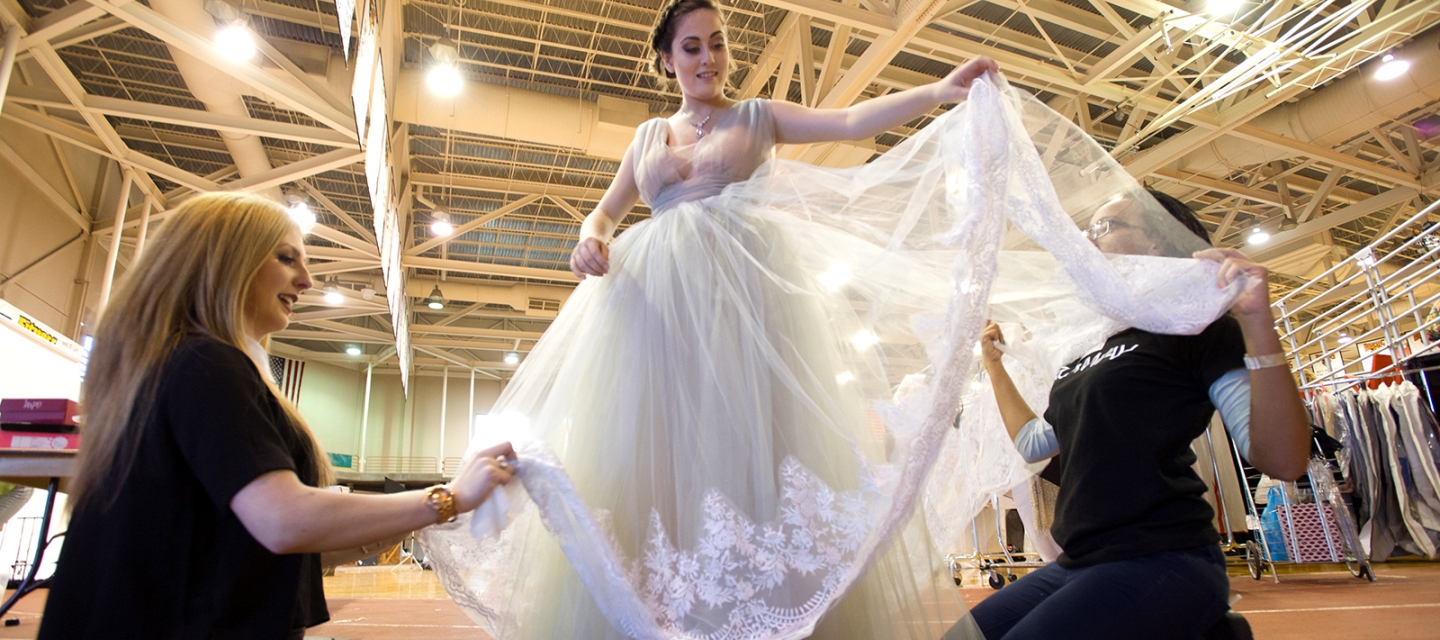 Buffalo State and FIT, The One-Year Associate Degree Program at FIT
How It Works
After three years of undergraduate study at SUNY Buffalo State, students admitted to the FIT program will enter FIT during their fourth year. Even though you will be at FIT, you remain a Buffalo State student through our Visiting Student Program.
Upon successful completion of your year at FIT, you will be awarded your baccalaureate degree from Buffalo State and your associate's degree from FIT.
FIT One-Year Associate Degree Offerings*
Accessory Design
Communication Design Foundation
Fashion Design
Textile/Surface Design
Advertising and Marketing Communications
Fashion Business Management
Textile Development and Marketing
*You do not have to take the same major at FIT that you are currently enrolled in at Buffalo State. It's a good idea to cross-train and expand your skills.
Buffalo State Requirements
To receive your bachelor's degree from Buffalo State as well as an Associate's degree from FIT, you must complete all of the following prior to the fall semester of your fourth year at FIT:
Intellectual Foundations classes
FTT major courses
Concentration courses prior to the fall semester of your fourth year at FIT
Costs and Financial Aid
Tuition, fees and room and board will be billed by and paid to the host campus.
Students complete budget sheet with the costs and hand it into our financial aid office. Students put BSU only on their FAFSA.
Aid gets disbursed through BSU to the student in its entirety. We suggest students have direct deposits set up. They receive full aid amount and it is their responsibility to pay FIT's entire bill with their aid monies.
Eligibility for financial aid is impacted when you take courses not directly related to obtaining your bachelor's degree – be careful taking any all-college electives.
Credits
The undergraduate credits will return to SUNY Buffalo State as all-college electives or to complete their major requirements at SUNY Buffalo State within their bachelor's degree from SUNY Buffalo State. Grades are not calculated into their home G.P.A.
Each semester, students will be registered for 12-18 credit hours at FIT to be able to complete a full Associate's degree.
Plan carefully – you will not have enough credits to complete a minor at Buffalo State if you want to go to FIT. Having too many credits will result in financial aid implications.
After each term, students need to send an official transcript to the FTT department, and a cover letter needs to be attached indicating how credits return. Registrars then transfers their credits accordingly. This was completed prior on their applications.
After their credits have been entered at BSU, students need to request an official transcript to be sent over to FIT admissions and they will send the students their associate's degree.
Your all-college electives will be taken at FIT – not Buffalo State. 
Applying to FIT
Admission to FIT is highly selective and Buffalo State has no control over who is accepted. Admission is not guaranteed just because you are a Buffalo State student.. 
Application Checklist
Complete the Visiting Student Program application available from the Fashion and Textile Technology Department.
Make an appointment with your academic advisor to go over the paperwork and turn it in to the chair of the FTT department. Yearly Deadline: November 30th.
Apply directly to FIT for the one-year program of your choice. Note that Fashion Merchandising students should not apply for the Fashion Business Management program at FIT as these are very similar and courses will overlap. Design students should complete and submit a portfolio.
Wait for the acceptance decision from FIT.
If you have been accepted, make an appointment with the chair of FTT to go over a budget sheet for financial aid.
Take the budget sheet to financial aid for review.
Admission Requirements
Candidates are evaluated based on class rank, grades in college coursework and a student essay. 
You must have at least a 3.0 overall GPA to be considered. 
Students applying to any of the design related programs are required to submit a portfolio. 
Letters of recommendation are not required
Accepted Students Checklist
Make an appointment with your FTT academic advisor. 
Fill out paperwork to go to FIT as a visiting student
Ensure that your credits come back to Buffalo State and are accepted into the right category in the fall semester of your third year at Buffalo State. 
Have your FTT advisor and FTT chairperson sign off on your paperwork. 
Go to the FIT website and note application due dates for the FIT one year Associate's degree program. 
Plan ahead so that you take all the required courses in three years.
Each semester, students are given a CRN number that holds them as a full-time student for SPP 100. Your FTT department chair will provide this.
Application deadline: January 1 for entrance into the fall semester. 
Portfolio deadline: February